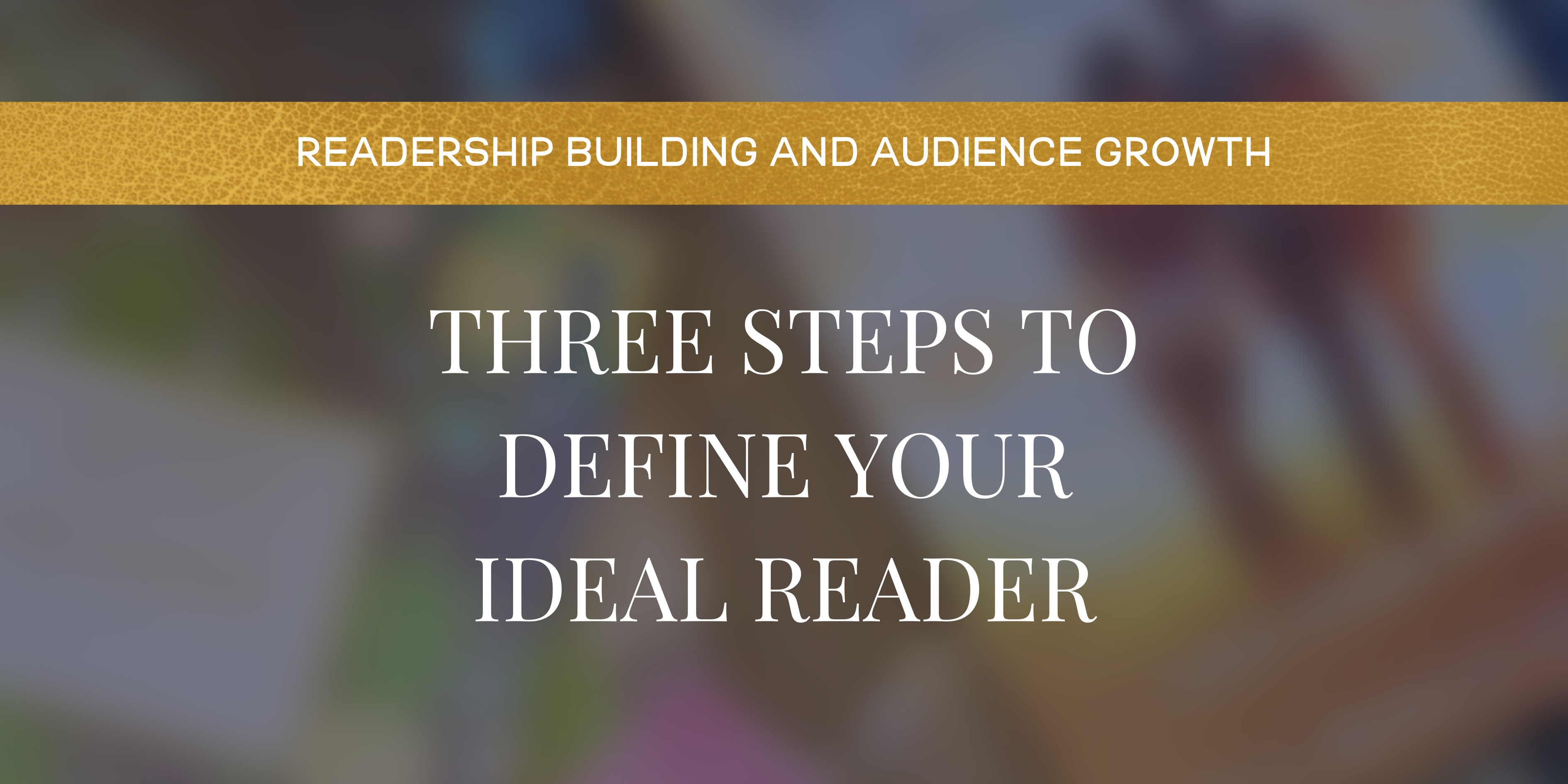 What Should Your Next Step In Authorship Be?
Take the quiz to discover which stage of authorship you're currently at and a *complete* list of action steps to focus on that will move you to where you want to go.
Finding the right people to buy your product is a massive step towards being successful in your marketing endeavors, and of course, this applies to fiction book marketing too.
AND, because authors usually have to promote their books themselves, it's crucial that they understand how to do this. But the problem I see frequently is that authors try to market their books to everybody (after all, Harry Potter is a children's series that is much loved by both children and adults, and that's sold millions of copies worldwide… so why can't your book have that kind of interest and reach too?)
The thing is, in the early stages of launching and marketing your book, you need to have a focused demographic to target your marketing campaigns towards. And contrary to what you might think, niching down with your messaging and marketing strategy won't actually result in you losing sales.
It's easy to think that you might leave readers out or lose sales by getting specific, but it's actually going to resonate more deeply with readers and bring clarity to their purchasing decisions.
Here's an example: it's like if I were trying to decide on an ice cream flavor and the only choices were fruity, sweet or specialty. That's not very specific and makes the decision harder for me. But when we break it down:
Fruit: banana, strawberry, mango, etc.

Sweet: cookies and cream, chocolate, vanilla, etc.

Specialty: matcha, bubble gum, buttered pecan, etc.
…well then, it's much easier for me to decide what I want! And your book is the same!
So without further ado, let's dive into how we can define your ideal reader:
1) Speak to core themes, issues, character types and storylines.
What core themes, issues, character types and storylines does your reader enjoy?
Similar to the ice cream example I shared above, you can think of book genres like ice cream categories: romance, fantasy, thriller, paranormal, contemporary etc.
But genres are also very broad, and you need to be able to stand out amongst other books in your genre.
So, you need to get clear on the specific reading experience you are delivering, for example:
You can have a

contemporary romance

that is very clean, sweet, romantic, with lots of fun banter and coming of age themes.

Or, you could have a

steamy romance

with lots of tension, an dominating alpha male, lots of drama and a strong female lead.
Do you see how these are two different reading tastes you're catering to?
Take some time to get clear on the reading tastes your book can cater to, and make sure your marketing messaging is focused on this. That's how you're going to be able to draw in a specific type of reader and communicate why they shouldn't pick up just any romance book, but your romance book.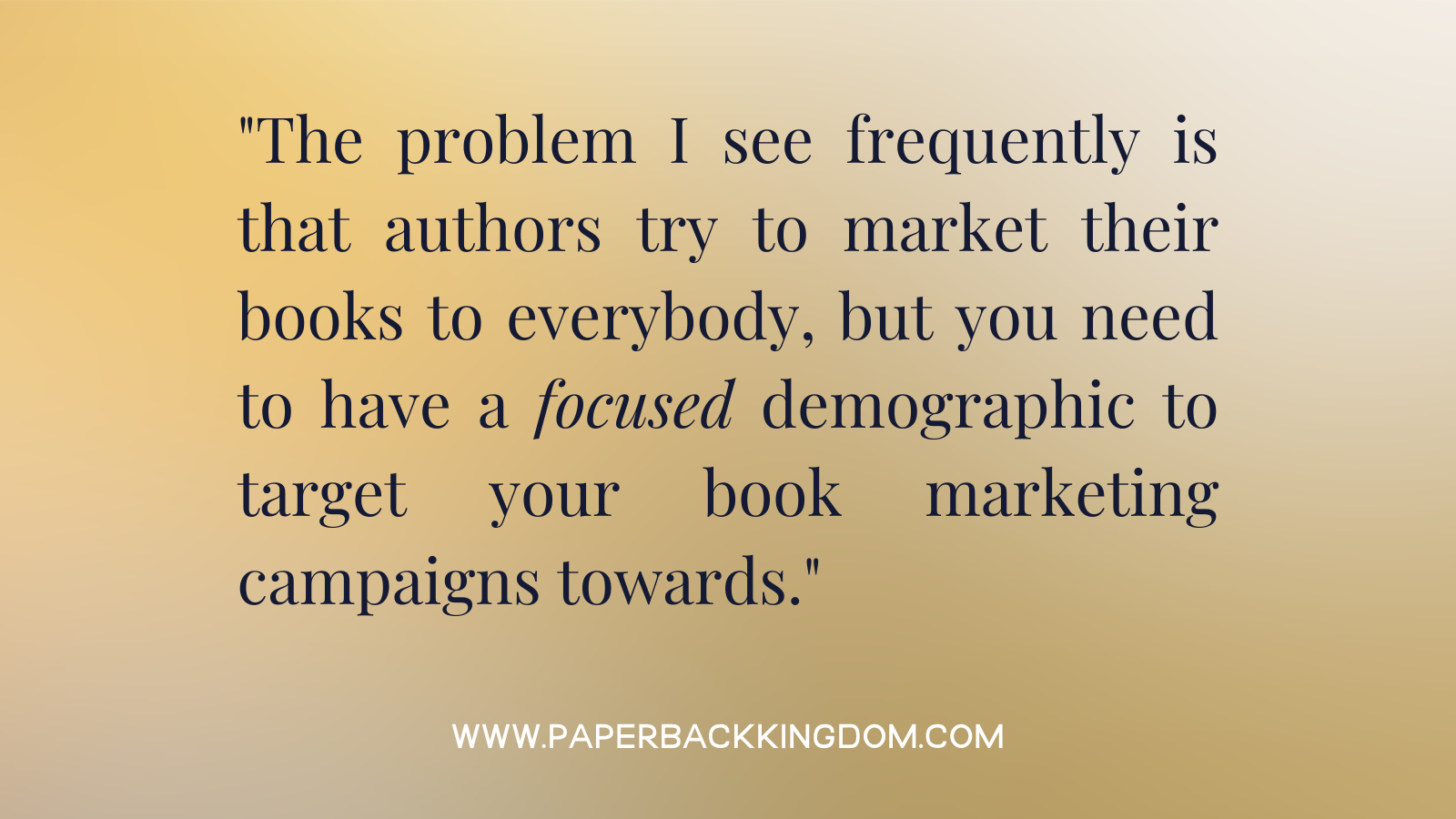 2) Get clear on demographics
Demographics aren't super important, but they're helpful when trying to decide on the best marketing approach (and especially when it comes to age range) because you need to keep in mind who is making the purchasing decisions for your books and where to find them.
For example:
You might have a children's book, but a parent is going to be making the purchasing decisions for that. So your messaging needs to speak to the parent AND cover the story themes that their child is going to be immersing themselves in. As for where to find them, you have lots of opportunities with local libraries, school fairs and daycare centers to get the right eyeballs on your book.

A young adult book is different, where the teenager might decide which books they want to read, but they still have to ask permission from their parents or seek the money to purchase somehow. You can diversify your strategy between libraries, schools and social media marketing, but you also need to ensure your book's content matter is parent approved by highlighting the kind of story they can expect in your marketing messaging.
When we move into new adult and adult books, the purchasing decision is being made by the person reading, so there's less obstacles to overcome. But, you have a diverse market to compete with, so getting specific to reading tastes and maintaining a diverse, online and offline marketing strategy is very important.
3) Understand and handle purchasing objections
Objections are a normal part of any sales process, but knowing how to overcome them is key if you want to close sales regularly.
When it comes to books, a lot of readers seem jump to the conclusion that if people aren't buying, the price must be too high and the solution is to lower the price (when in actual fact, that repels readers even more.)
People buy when they see value in something. It's the reason you have people lined up around the block to buy the next Sarah J. Maas book even though it's $16.95. If they can afford to spend $16 and they're prepared to spend it with another author, then price clearly isn't the issue.
So we need to look at why an objection is coming up and how to navigate it, and that's where the past two sections can help:
Knowing how to speak to your ideal reader means they're going to understand why your book is for them and why they would want to prioritize buying and reading it before any other book on their TBR. It means price becomes irrelevant, so you can usually rule pricing objections out.

BUT, knowing your demographic means you have an understanding of your reader's current priorities and commitments. So even though we can't make assumptions about people's financial situation, we CAN identify if your target audience is still in school or college, or whether they've got kids, and all the expenses that come with those situations. And that means we can use avenues like Kindle Unlimited subscriptions to make it easier for those people to purchase.
There are other objections too:
Your reader might have hesitations to purchase because you're not established enough, have poor brand positioning, or a lack of reviews, and they're not sure if they should risk buying from a new, unknown author.

Your ideal reader may not have even discovered you yet because you're not established enough, or you need to improve your visibility strategy.
To wrap things up, the more clear you are about your ideal reader, the deeper you understand their pain points, purchasing behaviors, and can tailor your marketing strategy to appeal to them. I hope this post helped, and if it did, consider sharing it with a fellow author who would benefit as well!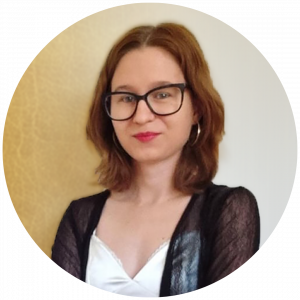 Pagan Malcolm is a bestselling fiction author, speaker, podcaster and business coach for authors. She helps aspiring authors finish their books, build the foundations for consistent book sales and establish a standout author brand that gets them KNOWN.
| Facebook Group | Instagram | Podcast | Website | Blog |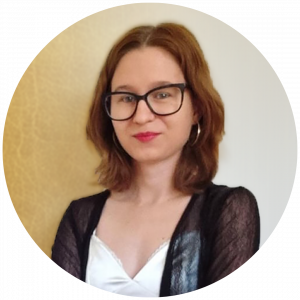 Pagan Malcolm is a business coach for authors helping writers to leverage the business side of publishing so that they can kickstart profitable writing careers and become established authors. She has been featured in various publications including Writer's Digest and The Write Life Top 100 Websites For Writers.
You might like…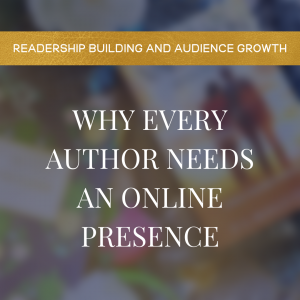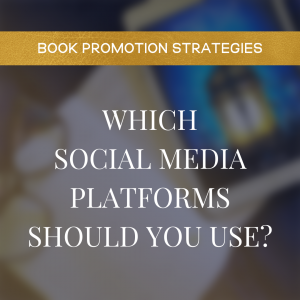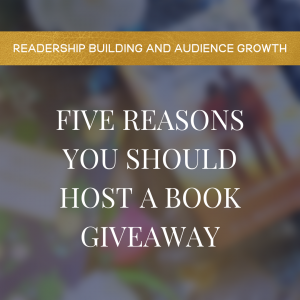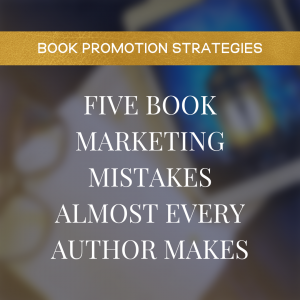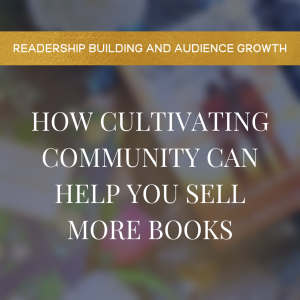 Free Resource: